"Top 50 most romantic wedding venues in the u.s."
- Brides Magazine
Emily & Josh, October 27, 2019
Thank you so much for allowing us to get married at the beautiful Saltwater Farm Vineyard! We could not have asked for a more beautiful place to celebrate with our family and friends. We really appreciated all your help and support during this process. We loved how organized and smooth everything was! Thanks so much again for everything and we cannot wait to return to the vineyard for years to come.
Alyssia & Tony, October 14, 2018
Thank you so much for being such an important part of our wedding day! We could not have asked for a more prefect place to get married and such an awesome staff to work with!
Erin & Lewis, September 29, 2018
Not only is this property absolutely stunning but the constant and quick contact from Merrily made us feel like we were the only people she was working with. They were ready for anything and made our perfect setting come to life. We highly recommend this vineyard for your perfect fairy tale wedding... or any event, to be honest! It's truly memorable and we can't wait to go back! I see many anniversary trips to SFV in our future!
Caroline & Dean, September 28, 2018
Thank you so much for being such great hosts at Saltwater Farm! Our wedding was perfect and we could not have been happier. All of you staff were wonderful and our day as everything we hoped for and more. We can't wait to continue to come back and visit!
Yael & Matt, August 24, 2018
Finding a venue was one of the most stressful parts of planning our wedding. We visited way too many places, but upon walking into Saltwater Farm Vineyard, we both just knew this is where our perfect day needed to take place. It's pure magic. I'm fascinated by the history of the property and didn't let any opportunity slip to let people know we were getting married on a vineyard that used to be a WW2-era airport. We visited several times leading up to the big day and everyone there treated us like family. Merrily and her team are a well-oiled machine and took care of every little detail to make our wedding the best it could possibly be, including giving us what we heard was a stellar babysitting recommendation and ordering sandwiches and snacks for the bridal suite day-of. I loved watching our guests frolic through the vines to take pictures during our cocktail hour, and though I've only seen 2 of our own photos so far, I know those are going to be fantastic with this venue as the background. I really hope someone we know chooses to get married there so that we have an excuse to go back and do it all again!
Mother of the Bride, Sue, Lauren & Tobie, August 18, 2018
I just wanted to let you know how pleased we were with Lauren & Tobie's wedding on Saturday. The venue is spectacular, the weather held out until we were inside celebrating, and all the guests had a fabulous time. The staff at SFV were wonderful. Thank you so much for all your help and making a special day even more special. We will definitely be passing the word about venue.
Laura & Tobie, August 18. 2018
We wanted to take a moment to thank you so much for being a part of our special day. We had the most perfect day and I cant thank you enough for all of your help. We are so excited to come back to the vineyard for years to come.
Teresa & Devin, August 11, 2018
Devin and I cannot express the gratitude we have for everything you did to help make our day perfect. We could not have imagined it would be so amazing. Saltwater Farm will always be a part of our family and we cant wait to come back and visit. Thank you for all that you did and for making our wedding so memorable.
Juan & Brittany, August 4, 2018
I just wanted to say thank you so much for allow us to have our wedding at Saltwater Farm. It was the most amazing night. Your venue is absolutely breathtaking. There are no words to express how thankful Juan and I are. It was a dream come true!!
Mary & Kevin, August 3, 2018
Thank you so much for all you did to make our wedding such a warm and flawless event. Wishing you a Merry Christmas and a happy and healthy 2019! Hoping to make it up to Saltwater Farm soon!
Mikaela & Russ, July 27, 2018
Thank you for everything you did to help make sure our day went smoothly! The Vineyard was the perfect setting for our wedding and we received many compliments on how beautiful it was. It has been such a pleasure working with you. Thank you again!
Jillian & Brian, July 20, 2018
Saltwater Farm Vineyard was truly the idyllic wedding venue. The vineyard is stunning, the people lovely, the wine delicious.
Merrily was a pleasure to work with and offered great advice. Lori, our day of vineyard representative, was absolutely fantastic. We were so excited when we found out she would be working our wedding after meeting her on several brief trips to the vineyard (and especially after answering a myriad of questions from my super excited mom).
The bridal suite was a bright and fun location to get ready. Every aspect of the day that followed was exactly as we had imagined it would be and more. The venue was also a ridiculously fun spot for our rehearsal- complete with wine, oysters, and live music.
Overall, I would say one of the best reasons for booking our wedding here was that we felt everything was taken care of, leaving us worry-free on the day of our wedding. The vast majority of the vendors we hired were recommendations from the vineyard, and they all worked together flawlessly. Someone actually commented at how calm and happy I seemed for a bride on the morning of our wedding. All I can say is that, after all the care and attention shown to us by SFV, A Thyme to Cook (Catering), A Gala Affair (Flowers), Power Posse (DJ), Skyview DPV (Videography), my husband and I both felt free to relax and enjoy the day! We could not be more grateful to all of these delightful organizations, and especially to SFV. THANK YOU!!!
Shene & Daniel, July 13, 2018
Saltwater Farm Vineyard was the absolute perfect setting for our wedding! The vineyard itself is beautiful, and the space inside the hangar is to die for as well! The owners, Merrily and Michael, as well as their staff were all amazing to work with through the entire planning process, and they truly made our wedding special!
Nicole + Steven, June 24, 2018
All of our family and friends are still talking about how gorgeous your venue is and how beautiful it was for our wedding, and of course we couldn't agree more!
Thanks to you, we were married at our dream venue and are so happy we can go back to celebrate upcoming anniversaries!
Thank you again for everything!
Elisa & Robb, June 16. 2018
After doing extensive research on many CT and MA venues- we narrowed down our list to six sites that we wanted to visit. The moment we walked into Saltwater Farm, we had a great feeling. We were looking for the perfect blend of rustic, industrial, and natural, and SWF was certainly all of that and more. We met with the owner Merrily, who provided answers to every single question I had (and I am an event planner by profession, so I had A TON of questions). From start to finish, our experience with SWF was outstanding. Every visit we planned with vendors was coordinated without issue, we were welcomed into the tasting room and recognized as a client by the tasting room staff. Any time we saw Merrily or her husband at the vineyard, they asked how planning was going and if we needed anything. Merrily was extremely prompt and thorough with all communication. Honestly, even though SWF does many weddings each year- we always felt like we were the only bride and groom getting married there that year. The attention to detail, the insurance of privacy for the day of your wedding, the meticulous care of the grounds, and the amenities available at the vineyard (their bridal suite is top notch) were outstanding. I would also highly recommend ordering lunch for your bridal party from MBAR, which Merrily and her husband also own.
Kimberly & Chris, June 9, 2018
Thank you for your hospitality and for providing the most amazing wedding venue! We truly love Saltwater Farm and can't wait to come back soon for a visit. We had the absolute best time!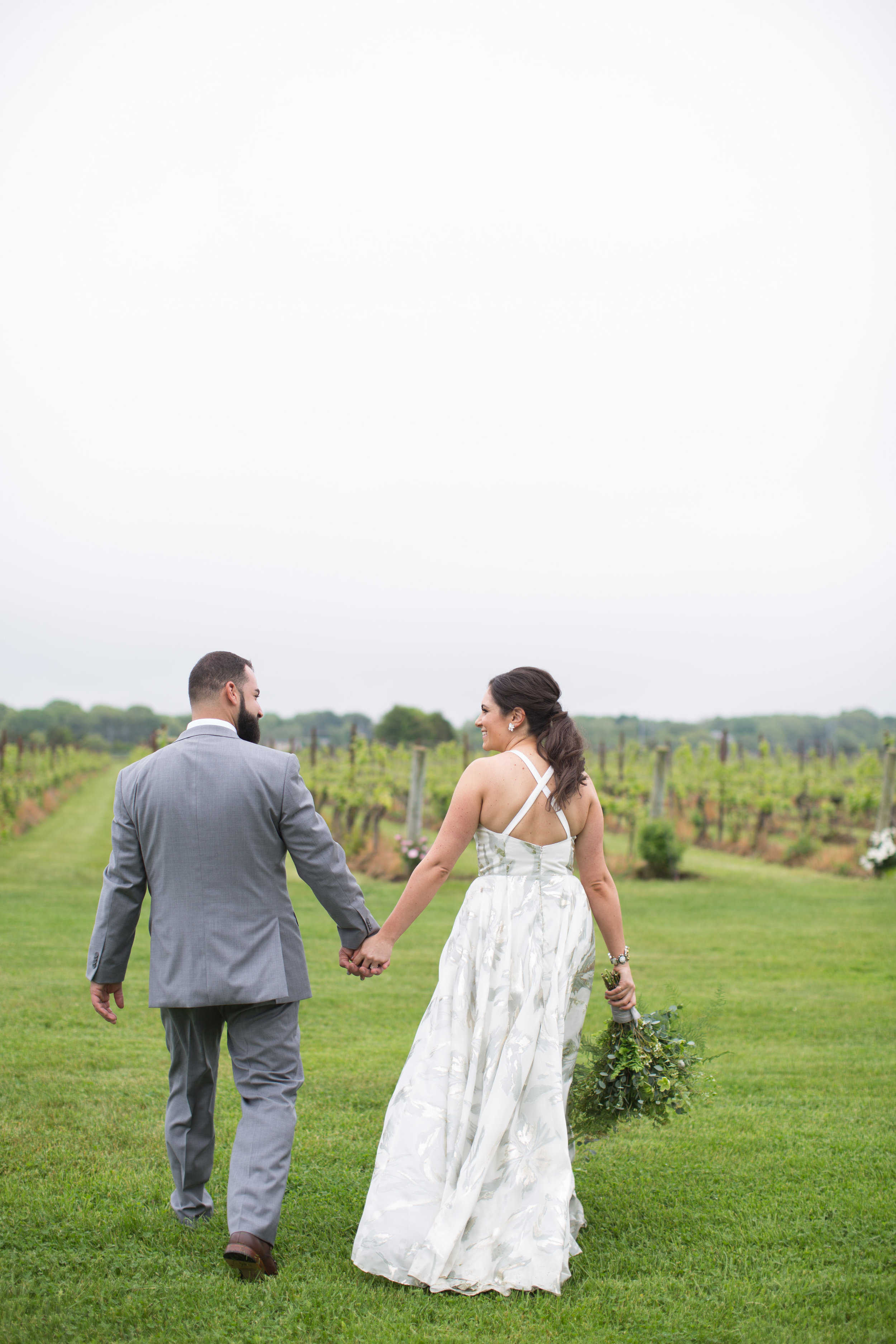 Nicole & Mike, June 1, 2018
Our wedding at Saltwater Farm Vineyard was perfection, we picked the ideal place for our special day! Even on the cloudiest of days, the vineyard is the most gorgeous place to be. The staff at Saltwater is always so welcoming to us, and Merrily was an absolute joy to work with, we look forward to our visits in the future!
Roz + Matt, April 21, 2018
We just wanted to extend a heartfelt thank you for such a beautiful wedding day at Saltwater Farm Vineyard. Everything was perfect - from planning to the big day. We sincerely appreciated your hospitality and wonderful staff.
Natalie & Steve, October 7, 2017
We cannot begin to explain how thankful we are that about three years ago we walked into the Tasting Room and immediately fell in love with the venue and knew we would get married there! From our very first meeting, you welcomed us as if we were family. Everyone helped make our special day so amazing - our dreams about our wedding day came true because of the staff at Saltwater Farm. Thank you, from the bottom of our hearts, for letting our forever begin with you all. We cannot wait to celebrate anniversaries at SFV and eventually bring our future children to see where it all began.
Nancy & Doug, July 23, 2017
As we get settled into married life we wanted to take a moment to let you know how appreciative we are of your support and that of your staff. We cannot imagine a more beautiful place to get married. This sentiment was reiterated by many our guests. The day went so smoothly which allowed us to enjoy every single moment.
Lisa & Len, parents of Danielle, July 2, 2017
We wanted to let you know how much we enjoyed Saltwater Farm as our wedding venue for Danielle and Chase's wedding! The weather was perfect for the outdoor ceremony and cocktail hour and our guests loved the beautiful, picturesque setting of the vineyard.
It truly was a memorable day for all! Our thanks to you for all of your help this past year with answering questions, giving good advice and answering many emails so promptly. You were truly a pleasure to work with and we look forward to seeing you again.
Lindsey & Phavixai, August 18, 2017

There is no way to capture in words how grateful we are to have been able to celebrate our wedding at your beautiful venue. The two of you, and your entire staff, were so gracious in guiding us along the way, and making us feel so special on our special day. We truly appreciate all of the extra support you provided in every way. And now we look forward to dropping in, calling ourselves (with the upmost pride) a Saltwater Farm wedding couple, and celebrating future events with you!
Lauren & Chad, August 13, 2017
Thank you so much for everything last weekend! Chad and I had a wonderful time and we can't believe it is already over. Our guests keep talking about how beautiful the venue was! Everyone truly loved it! We have fallen in love with the vineyard and will absolutely keep coming back to visit.
Helen & John, parents of the bride, October 8, 2017
Caitlin is off on her honeymoon in Greece so I do not know when you will hear from her but since I am floating in the afterglow of the most perfect wedding and the most beautiful venue, I wanted to write you and thank you and your staff. A wonderful time was had by all. You have been a delight to work with and we appreciate all you did to make the wedding a success in every way. Thank you so much and we will visit your very special vineyard again soon.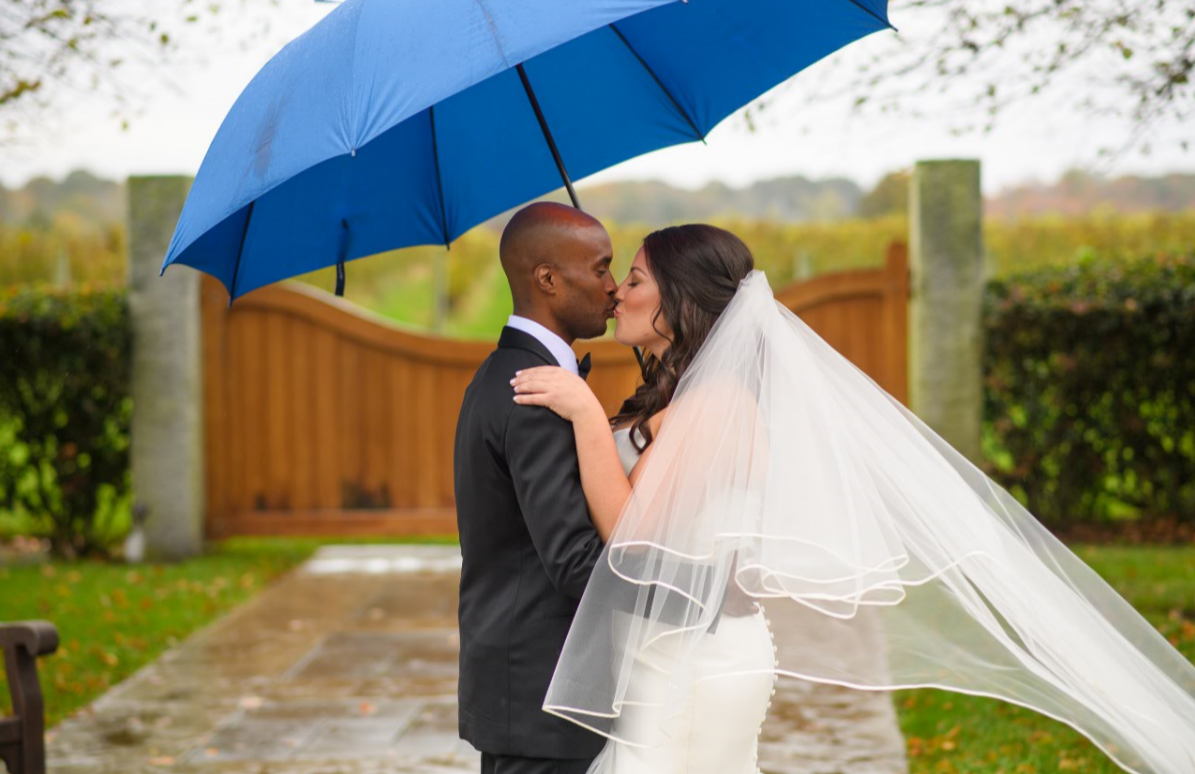 Mimi & Darryl, October 27, 2017
Thank you so much for helping to make our dream wedding a reality! We know it got a little crazy during the storm but it was still perfect to us. We truly feel like the vineyard is our second home and the place where we feel most happy. We can't thank you enough for your friendship and professionalism all of last year and we can't wait to visit next season and for years to come!
Jess & Warren, November 15, 2016
Thank you both so much for helping us create our dream wedding! We received so many compliments about the venue. Everyone had a great time and the night flowed perfectly! We will be sure to stop by this season and many times to come!
Also, thank you to your fantastic staff – they are all wonderful!